When you've got to have a French-Style Château de Versailles tree box for a tree just bought…
You start by looking at them online and find out the originals are a small fortune to buy. But, you inquire anyway…

The «Château de Versailles®» tree-box is available in 12 colours and 8 sizes.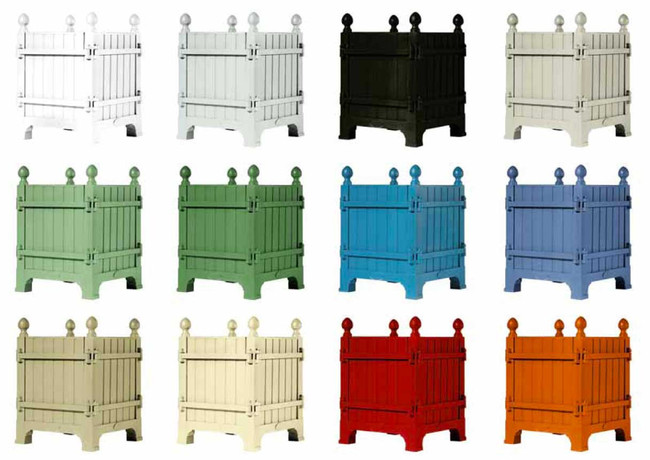 These quintessential Tree Boxes are made exclusively by Jardins du Roi Soleil in France out of cast iron and oak for the Palace at Versailles. Each displays the castle's beautiful orange trees which are wheeled in and out of the Orangerie each spring and rolled back in late fall, just as they always have been…
The company makes their…
patented garden boxes adapted from models created by landscape designer André le Nôtre in the 17th century."

Jardins de Roi Soleil
You'll remember that I watched the movie based somewhat loosely on the life of le Nôtre, adding in Kate Winslet's character as Sabine de Barre, a landscape designer of the Ballroom Garden and water fountain there at Versailles in this post ~ Garden Shows to Watch and My Own Petite Jardin.
So then, after drooling over these French-style tree boxes for several years and now needing one, you write to said company inquiring if the cast iron parts can be purchased separately (knowing full well the answer is NO).
"WELL, then how much would one box cost?" Each is exclusive to the buyer with the owner's name and number engraved on an iron plate on the side of each box. I have yet to hear back, but…
It's going to be about $5,000 US, my guess…
It's like buying diamonds. When the price for them gets to be close to what you'd pay for a car, then it's not in the cards!
*Note: when I was newly married and out visiting my parents, I once tried on an incredible 3 carat marquis-shaped diamond ring worth $18,000 at the mall in Danbury, Connecticut, near my parents' last home.
Next you begin thinking deviously about how you can just "charge it" to a credit card, but then remember that you've sworn off cc's a number of years ago, thereby working on getting out of debt…
So you turn to plans and Etsy! and find the Fifties Dad and his awesome planter boxes for about $1800 at MidCenturyWoodShop. Better! Plus he works out of Nevada City, California, where my best friend from high school's sister lives. I could have gone there in September when I was back for Sara's wedding (Janet's daughter).
I shared years ago about a long hike we all took around their town when I was up visiting for Thanksgiving.
I also found a good YouTube video by Peter Millard on How to Make a Versailles Planter. I like his instruction and I've put it here as much for you all as for myself.
And you find this pretty close Versailles Planter created by Forever Redwood out of sustainable forest redwood for about $2000, depending upon size (above). Liking the style!
The original oak planters made by Jardins de Roi Soleil come apart on all four sides for easy care of your tree's roots. This planter box by Forever Redwood also comes apart.
I found various other planter boxes available on Amazon, Wayfair and Overstock but these were all resin self-watering containers. Not really what I wanted for the redbud tree we have.
Why do you want the sides to come apart?
Any tree or plant living inside a box, planter, or pot, as we all learn as we garden, uses up its soil and nutrients every couple of years and needs new soil for better health. Trees planted permanently in boxes need their roots trimmed and new soil added to their planter boxes in the same way. Having four "doors" to get into your tree gives you access to each side, in case it appears that one side needs special attention.
So this is where I am at with regards to finding a French-style Château de Versailles tree box… We have cedar pallet wood available for reuse but I'd probably go buy fresh and look for redwood. Both are bug resistant but redwood is better!
I am still looking for plans but need to get going soon for this tree to begin rooting in before it flowers here this spring. I'd really like a pre-built model but building it myself will be the best option. 🙂
In the spring, at the end of the day, you should smell like dirt."

Margaret Atwood
Time to get busy creating,
Hugs, Barb 🙂